Thank you for your sponsoring Dykema's 9th Annual Definitive Conference for Dental Service Organizations, to be held in person on July 13-15, 2022 at the beautiful Gaylord Rockies Resort in Denver, Colorado! We are excited to partner with you to help make this event a success. Below are some commonly asked questions from our sponsors. If you need further information, please contact the Dykema DSO team at DykemaDSO@Dykema.com.
HOTEL RESERVATIONS
Please have your team book their discounted room reservations with the Gaylord Rockies Resort as soon as possible, as the block WILL SELL OUT EARLY. The discounted room rate is $282.00 inclusive of the $23.00 resort fee. Taxes and a $2.00 Aurora destination marketing fee apply.
Reserve your room by clicking CLICKING HERE.
SPONSOR/TABLE EXHIBITORS  PAYMENTS & CANCELLATIONS POLICY:
For all table exhibitor sponsorships, payment is due in full within 30 days of invoice receipt in order to guarantee your exhibitor space.
For all other event sponsorships, a 25% non-refundable deposit is due within 30 days of invoice receipt in order to guarantee your sponsorship.
Cancellation requests received prior to May 15, 2022 are entitled to a refund minus the 25% non-refundable deposit. Any cancellation requests received on or after May 15, 2022 will not be entitled to a refund but a non-refundable credit for a future Dykema DSO event.
In the event Dykema has to cancel or postpone the 2022 conference due to unforeseen or Covid-related circumstances, sponsorship payments will be rolled over to the rescheduled event. If a refund is requested due to event postponement or cancellation, 75% will be refunded less administration fees.
All cancellation requests must be made in writing. Voicemail and other verbal requests for cancellations are not valid. Cancellation requests can be emailed to dykemadso@dykema.com or mail to: Dykema DSO Group, Attn: Dottie Miller, 400 Renaissance Center, Detroit Michigan 48243
–
MASKS AND SOCIAL DISTANCING
At this time, masks are welcomed but neither the hotel, nor the Dykema DSO Conference, will be requiring masks. Social distancing will not be enforced. We kindly ask that if you are not feeling well prior to attending the conference, please get well and stay home.
SPONSOR LOGO AND URL
Please provide a high-resolution logo and URL of the sponsoring company so we can add you to our sponsors page. Logos are requested by May 15, 2022 or at the time of commitment. Logo specifications are as follows:
Logos that fit horizontally in a proportionate 3×2 space is recommended.
Logos should be in .eps, .pdf or high resolution .jpg format.
Please logo and desired URL to dykemadso@dykema.com.
–
SPONSOR EXHIBIT SET-UP, TEAR DOWN and MANAGEMENT AGREEMENT:
EXHIBITOR TABLE SPONSORS: A single 6-foot unskirted table with two chairs will be provided for select sponsors per the sponsorship level commitment. If a display is over 8 feet wide, two tables must be purchased – NO EXCEPTIONS. If a display encroaches into a neighboring exhibitor area, you will be asked to remove it.
EXHIBITOR SET-UP must take place on July 13, 2022 any time between 1pm and 5pm MT.
TEAR DOWN is at 3:00 pm on July 15, 2022.
EXHIBITOR HOURS: Please plan on being at your exhibitor table during all break and networking sessions. We recommend also being at your table for during the breakfast and lunch sessions.
Additional equipment (power strips/wired internet connection) may be ordered in advance by exhibitors and must be reserved directly from the hotel. Dykema will not be responsible or liable for damage by accident or otherwise to exhibits in connection with the transfer, installation, maintenance, removal, or displays. Click here to order these services with the hotel.
All sponsors agree not to extend invitations, call meetings, or otherwise encourage absence of attendees from the conference or exhibit area during official hours of the program without Dykema approval.
One representative must man the exhibitor table during the conference's networking sessions and breaks.
Sponsors are responsible for shipping and storage of exhibit materials and all costs involved, including expenses for return shipments upon completion of the conference.
Due to space limitations, catering through the hotel is not allowed at or around sponsor tables. We apologize for the inconvenience.
–
SHIPPING INSTRUCTIONS
The below information is provided by FedEx Office within the resort, all pricing is subject to change. All shipping questions should be handled directly with FedEx Office (303-390-9121) or by clicking here.
In-bound Shipping Instructions:
Use the correct addressing option from the methods listed below to eliminate any package routing delays. All packages received by FedEx Office require a release signature before being released from the custody of FedEx Office. Release signatures are captured at the time of package pickup from the FedEx Office Business Center or during delivery of package(s) to the recipient. In-bound receiving and applicable delivery fees will be applied to all packages. Fees applied are in addition to standard shipping rates.
For guest name field below, only use the individual who will be onsite to sign for the package(s). Please do not address your packages to a hotel employee or Show Manager as this could cause the package to be delayed. Packages (excluding pallets/crates) will be available for pick-up at the FedEx Office Business Center. Delivery of packages can be scheduled after arriving at the hotel by calling the FedEx Office.
To expedite handling of your package, please ensure package(s) are delivered to the hotel between one and five days prior to the event.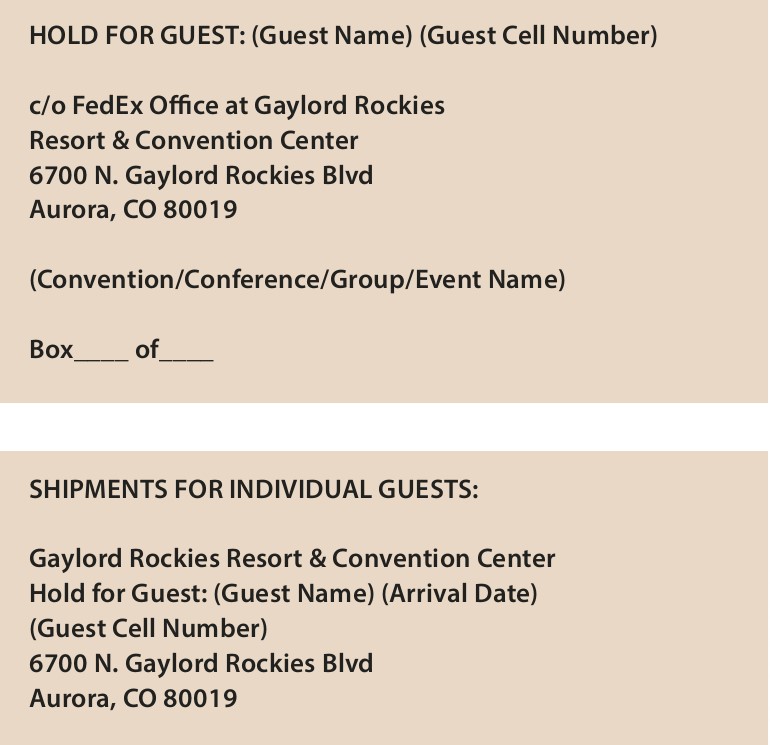 Out-bound Shipping Instructions:
To expedite the process of out-bound shipments, please affix a completed carrier air bill to each package. Boxes and FedEx shipping supplies are available through the onsite FedEx Office Business Center. Pickup of out-bound packages by all non-standard (other than FedEx or UPS) couriers must be coordinated with the onsite FedEx Office location. Out-bound Handling Fees will be applied to each package. Fees applied are in addition to standard shipping rates.
Handling Fees:
Fees applied are in addition to standard shipping rates. All handling fees can be applied to a guest room/master account or billed to a credit card.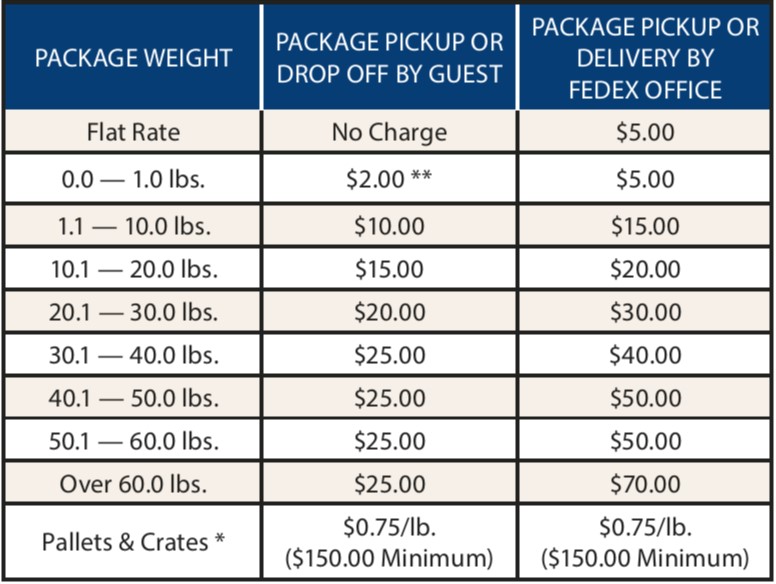 * For inbound/outbound pallets or crates, the receiving and delivery charges are consolidated into a single fee of $0.75/lb. ($150.00 minimum), which is applied to each pallet/crate handled. A labor fee of $70.00 per hour will apply for breaking down pallets, building pallets, or excessive package handling/ moving due to a customer's request. The labor fee can be charged in 15 minute increments.
** No handling fees will be charged for outbound packages weighing0-1 pound that are brought to the FedEx Office Business center by a quest.
Package Storage Fees:
A one-time package storage fee will apply to each package received and stored for more that five (5) calendar days. Items measuring over 6.5 feet in size are considered oversize and will be assessed an additional oversize fee if stored for more than five (5) calendar days.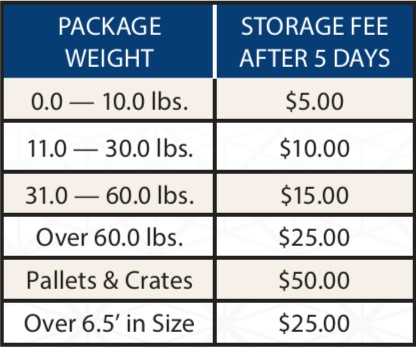 CONNECTING WITH ATTENDEES
Dykema does not release the attendee list, including emails, to sponsors or registrants. To connect with any attendee during the conference, we encourage you to download the conference app. Email instructions will be sent to all registrants of the conference prior to the event.
Still have general sponsorship questions that were not addressed on this page? Please contact the Dykema DSO team at DykemaDSO@Dykema.com.